Girls basketball: Wolverines sweep season series with Verndale
The Wadena-Deer Creek girls basketball team swept its season series with Verndale with a road win on Friday night.
We are part of The Trust Project.
VERNDALE — A season-series sweep and a winning streak were on the line in Verndale on Friday night.
The Wadena-Deer Creek girls basketball team (9-4) took care of business with a 57-42 win over Verndale (2-11). WDC's second win over Verndale extended their winning streak to three games, while the Pirates' regular season continued into their fifth-straight loss.
"I thought we did a lot of good things," said Wadena-Deer Creek head coach Jordan Cresap. "Verndale is always a tough team. They are physical and have some tough players who present some matchup problems for us. Verndale is always working hard and is a well-coached team. We knew that it would be a challenge, but I thought, offensively, we were aggressive. I thought we found a good balance of being aggressive while under control. We only had nine turnovers. We got a lot of good looks for each other while being unselfish offensively. Defensively, there were some different lapses here and there, but effort was there.
Senior guard Madison Carsten saw the Wolverines' defense as one reason her team pulled out the win.
"I think we really came out aggressive and played tough defense which was key for us to win this game," she said.
Wadena-Deer Creek never trailed. A three from Addyson Gravelle got things going, sparking a 12-4 start to the first half. The Pirates went on a 16-8 run to take a two-point lead five minutes before the intermission.
The Wolverines responded with a 7-0 run. However, Verndale's Avery Amerud beat the buzzer, sending WDC into the locker head 28-22.
Verndale fought back in the second half with an 8-0 run to come within a possession. WDC's Montana Carsten hit 1-of-2 free throws to extend the lead to 35-32.
From there, it was all WDC. After a back-and-forth stretch, the Wolverines ended the game on a 17-10 run.
"Verndale battled back like we knew they would," Cresap said. "For our group to show some resiliency was great. Jada Dykhoff comes in and hits two big-time threes there to extend the lead. She's been hit or miss with varsity playing time. She's a freshman who is a gamer. She came in and knocked down some shots. Payton (Gravelle) led us inside."
"I think really moving the ball around helped," Carsten said of what helped the Wolverines to pull away. "We had different people stepping up their scoring and rebounding. Everyone doing their jobs helped a lot to keep our momentum going with our tough defense."
Cresap thought the physical play by eighth-grader Payton Gravelle was a big help toward the end of the game.
"Payton is relentless," he said. "She's a hard worker through and through. It doesn't matter how many points she's scoring or not scoring. She's always bringing a lot of effort by crashing the boards hard because she knows that's what her team needs. She's the ultimate team player. She steps up and scores when she needs to. We appreciate her efforts."
Gravelle finished the game with nine points. Addyson Gravelle finished with a game-high 17 points. Carsten was the game's second-leading scorer with 14 points.
The Wolverines improved to 5-2 in the Park Region Conference. WDC currently sits in third place, while Verndale fell to 1-6 in conference play.
WDC has a tough week ahead of them with games against two of the top teams in Section 8-2A. Cresap saw their win as a good test before squaring off against Pelican Rapids and Perham.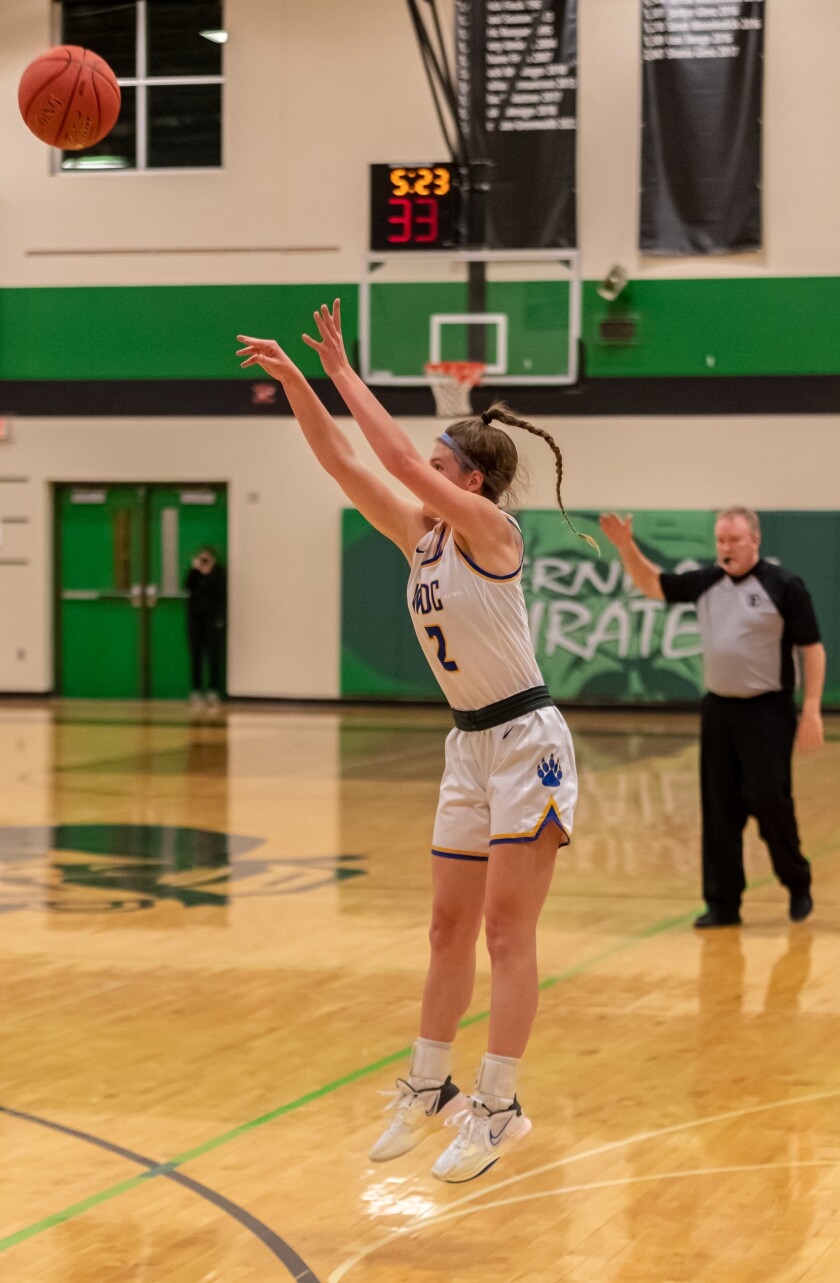 "Verndale is a disciplined team, and that's what Pelican Rapids will be to a tee," he said. "Pelican is very disciplined. They always have a couple of good players. This will better prepare us for those games. Playing in these closer games where there are different runs and pulling it out is good growth for everybody. Perham presents a huge challenge as well. Next week is a big one for us. Win or losses aside; we have to approach the week with a good mindset and stay positive."
"I think (tonight) gives us the confidence to step up and know we can compete with just about any team," Carsten said. "It helps to get our confidence in our shots going, which keeps us in a lot of games."
WADENA-DEER CREEK SCORING- Addyson Gravelle: 17 points, Montana Carsten: 6 points, Jada Dykhoff: 9 points, Madison Carsten: 14 points, Payton Gravelle: 9 points, Jenna Dykhoff: 2 points
VERNDALE SCORING- AVery Amerud: 13 points, Mallory Uselman: 6 points, Taylor Johnson: 6 points, Katie Blaha: 11 points, Olivia Stanley: 6 points