Glorvigen brothers share stories from Hall of Fame fishing, business careers
Scott and Marty Glorvigen and their digital fishing content platform, Wired2Fish, are among the 2022 inductees into the Minnesota Fishing Hall of Fame
We are part of The Trust Project.
GRAND RAPIDS, Minn. – As fishing industry veterans, twin brothers Marty and Scott Glorvigen have navigated their share of rough water over the years, whether in a boat or in a boardroom.
There's little doubt, though, that the brothers, who grew up and live near Grand Rapids, have had a knack for doing the right thing, whether working as fishing guides in high school and college; launching Gemini Sport Marketing, a successful fishing apparel and custom accessory company that sprang from a college project at the University of Minnesota Duluth; fishing professional walleye tournaments; producing "Pros Pointers Television," a how-to segment of fishing information that ran for 23 years in broadcast markets across the U.S. and Canada; or, most recently, starting Wired2Fish in 2008.
The 'Keep It Clean' campaign started at Lake of the Woods. More recently, Upper and Lower Red Lake, Mille Lacs Lake, Lake Vermilion and the Fairmont Chain of Lakes came on board.
The digital platform of written and video fishing content today is recognized as a leader in the freshwater fishing industry.
With that extensive resume as a backdrop, the Glorvigen brothers, 61, and their digital brainchild, Wired2Fish, are among the six inductees into the 2022 class of the Minnesota Fishing Hall of Fame .
"What's really special about this is that Scott and I just watched our own bobbers and worked hard at everything we've done in the fishing industry," Marty Glorvigen said this week in a phone interview that included both him and Scott. "I guess if you work hard, do the right things for the right reasons, it gets noticed. That's what's really special about this."
Headquartered in Little Falls, Minnesota, the Hall of Fame annually recognizes up to four individuals and two groups or organizations for their contributions to Minnesota's sportfishing industry.
Also named to this year's Hall of Fame are Al Baert, a founder of the Minnesota Fishing Museum and Hall of Fame; Gregg Thorne, a fishing industry veteran who got his start building custom fishing rods in 1981; and Joe's Sporting Goods, a St. Paul company that started in 1930 as a Buick repair garage.
Being inducted into the Minnesota Fishing Hall of Fame in the Individual Legends category puts the Glorvigens among some lofty company, including such Minnesota legends as Al and Ron Lindner of "In-Fisherman" fame; John and Duane Peterson, who founded Bemidji-based Northland Fishing Tackle; and veteran outdoor communicator and fishing pro Babe Winkelman.
To name just a few.
"It's quite an honor," Marty Glorvigen said. "Then, when you sit back and you look at the companies that are there, the people that are there – institutions in the fishing industry – those people were our heroes when Scott and I were kids."
To be compared with their heroes is gratifying, Marty says.
"It's not an accolade; it's not a trophy," he said. "It is a recognition by your peers who have the scars, who have the cuts, who have the bruises and know how hard it is.
"Not only from a personal side, but from a business side."
The brothers knew from an early age that they wanted to make a living in the fishing industry, which is part of the reason they decided to attend UMD after graduating in 1979 from Greenway High School in Coleraine, Minnesota, Scott Glorvigen says.
Duluth offered a wealth of fishing opportunities, including spring steelhead fishing in Lake Superior tributaries.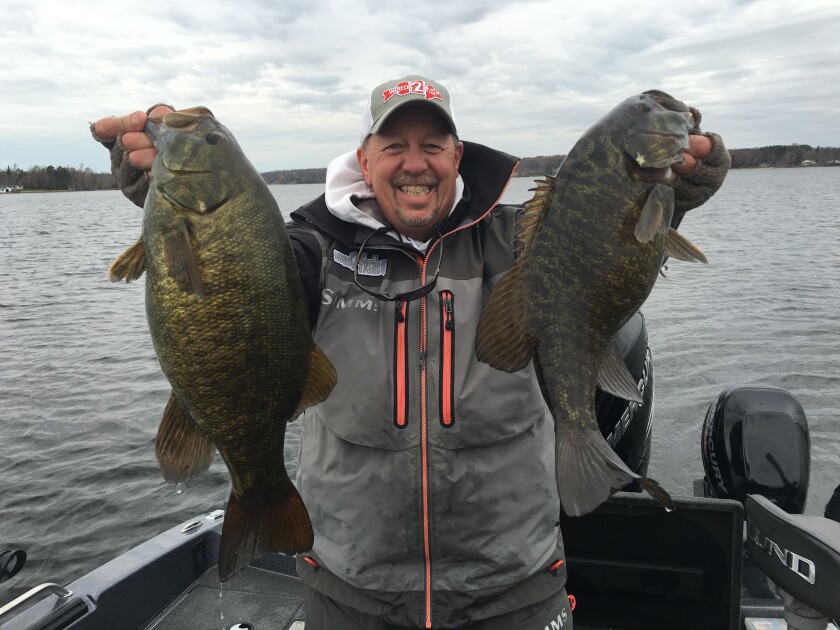 "We had a plan for sure that we were always fishing," Scott said. "We didn't know what our education plan was going to be, but we always wanted to (fish). And then, it was, 'OK, how do you want to do it?'"
The brothers might not have known the significance at the time, but they took a big step toward their goal while taking a class at UMD called Industrial Practices and Processes, Scott says. The engineering ergonomics class led them to develop a sports towel designed for clipping to a fishing vest or the interior of a boat.
Until then, they'd stolen their mother's kitchen towels, much to her dismay.
"That's kind of how the story started in regards to how we got into the business side of it," Scott said.
In 1987, they launched Gemini Sport Marketing in Grand Rapids. A logical progression to those early sports towels, the fishing apparel and accessory business proved to be a good fit with their careers as tournament anglers, and the brothers in the early 1990s began fishing the In-Fisherman Professional Walleye Trail and other pro circuits.
In October 2000, Scott Glorvigen won first place in what was then a new tournament circuit named after Wal-Mart and the manufacturers of Ranger, Crestliner and Lund boats. Winning the Wal-Mart RCL Walleye Championship in Green Bay, Wisconsin, landed Glorvigen a check for $300,000, immediately making him one of the top money winners in competitive walleye fishing history.
"You dream of winning the big one," he told the Grand Forks Herald at the time. "And to have the opportunity to win the biggest walleye event in history was pretty humbling. It was a dream come true."
Scott had finished "dead last" in two earlier tournaments, Marty recalls.
"I don't know how he remembers those details," Scott quipped in response.
Despite those two setbacks, Scott didn't change his mindset to fishing, Marty said. Through good times and bad, they've always tried to maintain a similar business philosophy, he says.
"I forget who told me this, but someone said in order to be a really good sailor, you've got to sail through a lot of crap and a lot of terrible storms," Marty said. "And I think that's what is so rewarding, when you survive the hurricanes and you make it to the sunrise. That's kind of where Scott and I are right now, in regards to getting into the Hall of Fame.
"It's like, ' Yeah, we made it.' "
In February 2008, the Glorvigens launched Wired2Fish in response to what they saw as a need for real-time digital fishing content.
With a strong TV portfolio of sponsors from their years doing "Pros Pointers Television" and tournament fishing, they were able to convince the sponsors to follow them into the relatively uncharted waters of digital media.
The 2008 global financial crisis was on a full boil, and the timing couldn't have been worse, Marty recalls.
"It was probably the closest I've ever been to bankruptcy in my life," he said. "But we persevered, our clients persevered. They couldn't pay us, they had issues. But we sailed through that storm, sailed through that hurricane. And we had a loyalty from our clients that was second-to-none because we stayed true to our word."
Today, Wired2Fish is one of the leading providers of digital outdoors media content with a core staff of 12 full-time employees and about half a dozen free-lance writers.
All run from an office along the Mississippi River in Grand Rapids.
"When you have a million-plus people a month who come to your site and do 12 million video views a month, those kinds of numbers are mind-boggling," Marty said. "It was never a target we set out to accomplish, but again, if you do the right thing for the right reason, people will notice it.
"And that's what happened with Wired2Fish."
As identical twins, the Glorvigens say they've had their share of sibling spats over the years, but those occasional disagreements have never gotten in the way of either fishing or business.
"It's like a marriage when you have an identical twin, and with that, you have to understand there's going to be good, there's going to be challenges," Scott said. "Some days, I'm going to get it right; other days, I'm going to get it wrong. And between the two of us, hopefully we have enough intuitive skill, whether it be fishing or business, to help us through that process.
"And that's how we got to where we're at."
The Glorvigens in 2018 sold Gemini – known today as Gemini Custom Brands Inc. – to Brad Raymond, a University of North Dakota business management graduate who had worked for the company since 2005. They also stepped away from tournament fishing several years ago to focus on Wired2Fish and family priorities.
Ultimately, they hope to sell Wired2Fish to the employees who helped make the platform a success.
"To see that opportunity continue to grow is pretty rewarding," Scott said. "The next phase of our lives is trying to make a difference in people's lives and help them accomplish their dreams and making this earth and this sport a little bit better – hopefully a lot better – than when we came into it many, many years ago."
PULLOUT:
OTHER 2022 MINNESOTA FISHING HALL OF FAME INDUCTEES
LITTLE FALLS, Minn. – Here's a look at the other 2022 inductees into the Minnesota Fishing Hall of Fame:
It all began with an offer of a measly $3 for his 1912 Surf Oreno fishing lure and a homemade brochure asking for donations of fishing equipment. Baert and his longtime friend, Morrie Sauve, partnered up to amass over 20,000 artifacts. Over the years, additions to the collection have included an aquarium, an ice fishing display, artwork by Minnesota artist Les Kouba, outboard motors, dozens of trophy fish and so much more. This collection is now known as the Minnesota Fishing Museum and Hall of Fame in Little Falls.
Fishing was never a leisurely pastime for Gregg Thorne. An obsession for fishing led Gregg and his brother, Paul, to begin building custom fishing rods in 1981. This was the beginning of Thorne Bros Custom Rod & Tackle, the Fly Angler and the Muskie Fever mail order catalog. In 1993, Gregg and Paul sold the business and pursued separate career paths. Gregg became a regional manager for the Cortland Line Co. and Diamondback Rods and for the next 13 years traveled overseas for rod design and development. In 2008, he joined PRADCO Fishing and became the Lindy brand manager in 2012. In 2016, Gregg started Elliott Rods and recruited brother Paul to join him in the rod business, forming Two Brothers Innovations, manufacturing Elliott and 2B fishing rods.
Joe's Sporting Goods started as a Buick repair garage in 1930. When founder Joseph J. Rauscher recognized his customers' need for live bait, he began selling minnows. The garage soon became known as Joe's Live Bait and quickly grew to include a wide range of outdoor activities. The current Joe's Sporting Goods store in St. Paul opened in August 2003, and the online store followed soon after to serve customers nationwide.
Today, the store is owned by Joseph H. and James Rauscher, sons of Joe and Loretta.
The official enshrinement into the Minnesota Fishing Hall of Fame will take place Friday, Sept. 16, 2022, at the Rice Creek Hunting, Rec and Event Center in Little Falls.
More info: www.fishinghalloffamemn.com .
– Herald staff report