Olmsted County continues to lead Minnesota in new COVID-19 cases
Spike of new cases extends in cluster of southeastern counties.
We are part of The Trust Project.
ROCHESTER, Minn. — Olmsted and Wabasha counties in the southeastern corner of Minnesota continue to report unmatched levels of new COVID-19 case growth.
According to data reported by the Minnesota Department of Health for the week of April 10, Olmsted leads the state with 23.6 cases per 10,000 residents, more than double the statewide average of 9.8 cases per 10,000 residents.
The new rate of case growth in Olmsted is a 50% increase from three weeks ago when the county, which is home to the Mayo Clinic, topped the state at just 15.5 cases per 10,000 residents.
Mayo Clinic predictive modeling reports a seven-day daily case average within Olmsted at 49 cases per 100,000 residents, according to program director Dr. Curtis Storlie. That is more than double the 21.8 average daily cases per 100,000 residents the program reported in early April.
"There is nothing special about Olmsted residents," Storlie said of the region's rate of spread. Rather, Olmsted may never have gotten as low as counties elsewhere after the omicron surge, or may just be experiencing a random "local high case pocket," Storlie said.
The Centers for Disease Control and Prevention COVID Data Tracker page reports that Olmsted is one of just 56 counties nationwide — 1.74% of counties nationally — classified as having a high rate of spread.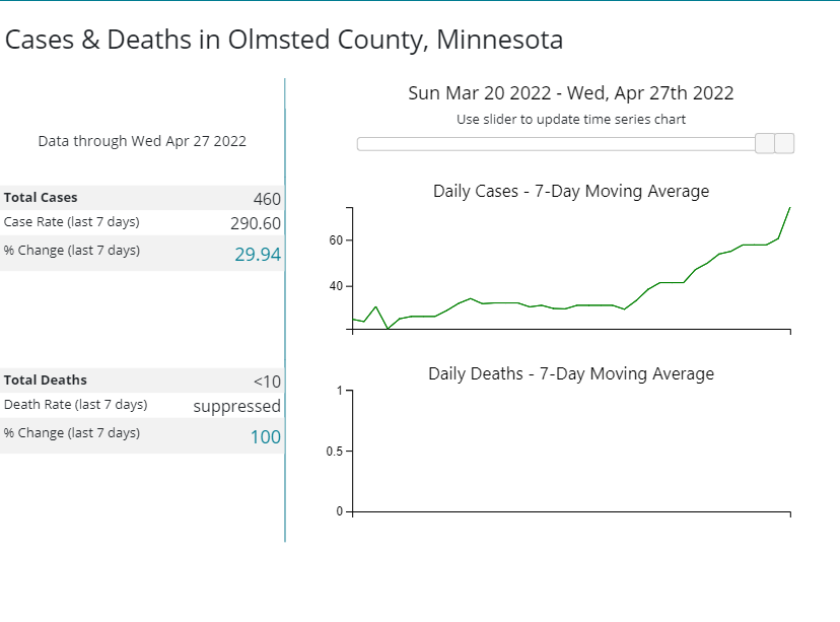 The CDC has also reported a seven day average of 290.6 cases per 100,000 residents within Olmsted for the seven-day period ending April 27. That is a 30% jump over the previous week and, comes out to almost 66 cases a day on average.
Olmsted sits inside of a cluster of higher case counts in the southeastern part of the state. Neighboring Wabasha County is the only other county in Minnesota classified as high on the CDC data tracking page.
The counties around Olmsted — Winona, Fillmore, Mower, Steele, Dodge and Goodhue — are elevated as well, designated by the CDC as showing medium spread. Almost all of the rest of the state is classified as having a low rate of spread.
Health officials say that declining hospitalizations is a better metric for tracking spread.
"It would not appear this case rise is somehow inflated due to more testing than other counties," Storlie added, because "testing per capita is not distinctly higher in Olmsted ... It does seem like Olmsted is just a little further along with this latest rise than other counties."
Storlie says that Olmsted may appear to be alone in its case spike, but only because of thresholds which other counties will soon cross themselves.
In a bright spot, COVID-19 hospitalizations in the county remain low. According to the CDC, there are just 10.3 hospitalizations per 100,000 residents, or just 2% of staffed inpatient beds.