Minnesota basketball standout's success on the court hid struggle with an eating disorder
Abbey McDonald, the former Bluejacket star, still has her "ups and downs," but hopes her story can help others battling similar problems.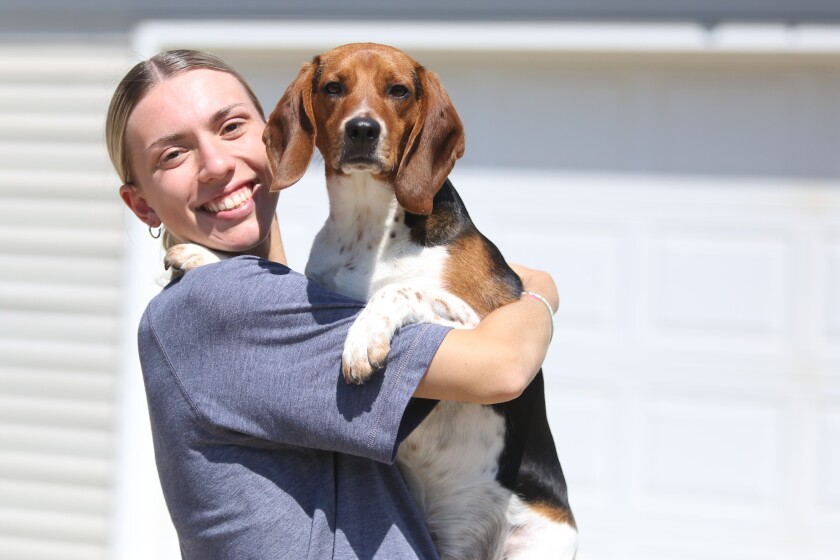 We are part of The Trust Project.
HIBBING — From the outside, 2019 seemed like a magical time for Abbey McDonald.
In her senior season at Hibbing High School, Abbey averaged more than 20 points per game and led the Bluejackets past Section 7AAA nemesis Grand Rapids and into the girls basketball state tournament for the first time since 2007.
She even was named the News Tribune All-Area Player of the Year and had plans to play basketball at St. Cloud State.
With all the attention on Abbey's play on the court, however, no one seemed to take note that something was wrong.
Abbey, now 21, was waging a battle against her own thoughts telling her she needed to appear thinner.
"It wasn't so much about my weight as much as looking in the mirror at my figure and I started worrying about that more and more," she said. "What got me through the senior season was just knowing that I needed to keep fueling myself for basketball."
Abbey became "hyper-fixated" on what she ate, and toward the end of the season she started having difficulty getting through games and workouts.
There was also evidence in the weight room. Her last three years of high school, she started her day with a weight-lifting class. Early her senior year, Abbey had a max squat of 235 pounds, but throughout the rest of the school year, that number went down.
"Even though I was going to play basketball at St. Cloud State, I just started worrying about it all day, every day," Abbey said.
Her parents heard some concerning stories from her coach about Abbey almost passing out at practice. They started pushing her to eat a snack before games and practices, but it wasn't until a spring break trip that they realized the severity of the situation.
"I took her and five friends to Florida in April on their senior trip," said her mother, Carrie. "That is when it was very apparent to me that something was wrong and then we went through just an emotional roller coaster of getting her in to see somebody."
With her job as an elementary school principal, two active teenage kids and Joel's responsibilities as a teacher and the Hibbing boys basketball coach, Carrie finally had some down time to spend with her daughter and see what she looked like and even what she ordered at the restaurants they ate at.
"I finally had the opportunity to physically see what she had looked like in a swimsuit and process the fact that I wasn't too busy moving onto the next thing at that moment to say, 'This isn't right,'" Carrie said.
After the season, Abbey had dropped to 113 pounds, frighteningly thin on her 5-foot-6-inch frame. Later, therapists said her healthy weight was 135 — she was more than 16% below her ideal body weight. Even her blood work reflected how little she had been eating.
The McDonalds had Abbey evaluated by The Emily Program , a St. Paul-based treatment program with offices around Minnesota and several other states. Abbey was initially diagnosed with anorexia nervosa.
"They were recommending inpatient treatment," Carrie said. "Of course, she was 18 now and she's like, 'Nope, I don't want inpatient treatment — I want to do outpatient treatment. I still want to go to St. Cloud State. I still want to play basketball.'"
Abbey began seeing a therapist specializing in working with athletes and a dietician in Duluth every week. Abbey would drive from Hibbing to Duluth for appointments to work on her recovery process and, hopefully, prepare for life at college.
"It was a coin flip at best the summer before she was going to leave for St. Cloud State, whether she was going to get clearance from her therapist to say, 'You are healthy enough to play, you are healthy enough to be self-sufficient so go give it a shot,'" Joel, the former Hibbing boys basketball coach, said. "We spent that whole summer prioritizing that, getting her as close to being in the right spot as possible and not really drills in the gym, like we had up to that point."
Concentrating on Abbey's mental health became the priority for the family, but before long Abbey's therapist cleared her for leaving.
Abbey left for St. Cloud in fall 2019, but left much of her support system in Duluth.
In the months before the COVID-19 pandemic took hold, remote appointments weren't as commonplace as they are today.
Abbey thought she could manage being away, but simply moving away to college — something already associated with weight gain — and preparing to play college sports was a major adjustment.
Further, St. Cloud State has a lot of history for the McDonalds. After Joel led Chisholm to the 1991 Class A state championship under his own legendary father, Minnesota coaching icon Bob McDonald, he led the Huskies in scoring in the 1993-94 and 1994-95 seasons.
"I was in a place where I thought being down in St. Cloud with the team and coaches, supportive as they were, that I would be OK," Abbey said. "But then the wheels fell off again."
Not only was Abbey cut off from some of the support structures around her at home, about halfway through her first semester at St. Cloud, Joel was diagnosed with bladder cancer.
Abbey knew she was struggling, but with her parents' attention suddenly shifting to her father's treatment, she turned to her uncle, Tom McDonald, for advice.
Abbey wasn't just struggling with the eating disorder; she was afraid of disappointing her father if she decided not to play basketball — especially at a school where Joel was also a standout player.
The words stung Joel McDonald when he first heard them in mid-October: bladder cancer.
"We're McDonalds and we're supposed to play basketball," Tom, the boys basketball coach at Ely, said. "She's a really super young lady and didn't want to hurt her dad, but I knew she needed to take care of herself and walk away, even though that might have been hard for her."
Abbey said in spring 2020, "things got worse than they've ever been," but she decided to transfer to the College of St. Scholastica and she entered an intensive outpatient treatment program.
The program required Abbey to be on a video call with a therapist and several other women from Minnesota struggling with similar problems. Monday through Friday the group would be on the call from 9 a.m. to 3 p.m. and would "talk through things" as well as eat lunch together.
Abbey credits her uncle with helping her get through the decision to leave St. Cloud and step away from playing.
"As much as I missed the game of basketball, I know that choosing not to play at that point was a lot better for both my mental and physical health," Abbey said. "I was at a point where I was doing more harm than good with continuing to do workouts and that kind of thing."
What's more, Tom was there for Joel as he watched his daughter struggle with the disorder.
"Tom and I had a couple of heart-to-hearts about it where he helped me realize that this isn't anything I'm going to be able to coach her through," Joel said. "A lot of times you think you can just encourage and say, 'All right, you can get through this.' But at some point in time, problems are bigger and more consuming of a person where that doesn't work."
Athletes at 'higher risk'
While Abbey's performance her senior year didn't reflect what she was struggling with, it is not uncommon for athletes to develop an eating disorder.
More than one-third of women competing in NCAA Division I sports reported "attitudes and symptoms" placing them at risk for anorexia nervosa, according to the National Eating Disorder Association.
"We know athletes tend to be at a higher risk for eating disordered behaviors," NEDA chief mission officer Lauren Smolar said. "We know that any kind of highly competitive sports can put somebody at a higher risk for an eating disorder and even people who are in noncompetitive sports can also be at risk for an eating disorder, but even more so, we know that added pressure can increase that risk."
A study at the Division II level — the level at which St. Cloud State plays — found that 25% of female athletes had disordered eating, 26% reported menstrual dysfunction and 10% had low bone mineral density, with 2.6% reporting all three.
However, signs of an eating disorder can be difficult to detect in athletes, according to Smolar.
"Stuff that is celebrated for athletes and looks like they are trying their hardest can also be signs of an eating disorder," she said. "It can be very challenging to determine what is them taking care of themselves and just pushing themselves a little bit in a healthy way and what is them not listening to their physical cues, that they're moving toward exhaustion, that they're harming themselves."
While athletes are at a higher risk of developing an eating disorder, Carrie McDonald — the principal at Greenhaven Elementary School in Hibbing — sees another source adding to the pressure on young people: social media.
"You keep scrolling through it and you see all these people have this perfect life and see how good they look in their bikinis," Carrie said. "They're taking these selfies, posting these things all over the place and everyone feels they need to look like that."
Social media can be a challenge for anyone, whether they are struggling with an eating disorder or not, but it only adds to the pressure for someone already at high risk.
"There are so many images that are a representation of what somebody's ideal image would be. It can cause a lot of pressure for anyone," Smolar said. "For people who are already at risk for eating disorders or disordered eating, to feel really uncomfortable with their body and feel like it's not acceptable the way that it is, that can really cause people to feel like they want to do things to change it that may not be healthy."
Abbey agreed that social media can be damaging. While she still uses social media, she tries to carefully curate her feeds.
"I try to limit who I'm following or what stuff I allow myself to see," she said. "A lot of it started when I would compare myself to models on Instagram or these famous ladies. That just pounded it into my brain that, 'Oh, I need to look like them to be good enough.'"
'Good days' and 'bad days'
For Abbey, she is trying to move on with her recovery. She's about to finish her degree at St. Scholastica later this month. She plans to work and prepare for the Law School Admissions Test this year and hopes to go to law school in the Twin Cities in fall 2023.
She hasn't played much basketball since fall 2021 but she does enjoy running. Still, her battle with the disorder continues with "ups and downs."
"There's some good days and there's also bad days, of course, but it's a continuous battle," Abbey said. "I don't know if I'll ever truly be 100% better, but I'm just trying to be as good as I can."
On the good days, Abbey is busy with school or work and her mind isn't stuck "worrying about how I look or what I ate that day." When those thoughts start to creep in on the bad days, she copes by seeking out her family, friends or even spending time with the McDonalds' three beagles.
She also remembers something her dad told her.
"A big thing I try to repeat to myself is something my dad says: 'You need to live your life and food is something to be enjoyed and not worried about or fretted upon,'" Abbey said. "He said that to me a long time ago and it's just something I repeat to myself that food should be an enjoyment in life and not something that is bad."
Joel said it was something his own father said to him years ago and he was thinking about when Abbey was younger. The family took a few trips to Croatia with Bob over the years — two of their three beagles are named after Croatian athletes — and both Abbey and their son, Ayden, were adventurous eaters.
"With that comment I was trying to encourage her to revisit what she used to be," Joel said. "But that's easier said than done. As often as I want to say that, the reality is that the disorder is a more powerful thing."
As she continues her recovery, she knows that it's going to be a continual battle, but she also hopes her story can help others struggling with eating disorders, whether they are men or women. While eating disorders are more common among female athletes, males are at a high risk as well. The National Eating Disorder Association notes a Columbia University study found 10% of male college athletes are at risk for anorexia and 38% are at risk for bulimia.
Abbey's advice for those struggling with an eating disorder? Don't suffer in silence.
"The No. 1 thing is don't be afraid to ask for help," she said. "Get help, acknowledge it, which is hard a lot of the time. There's times where I'm still like, 'Yeah, I'm OK,' but I'm struggling, but confide in your support system. If I didn't have the family and friends I had surrounding me, I don't know where I would be at right now."
If you or someone you care about may be struggling with an eating disorder, here are some resources:

The Emily Program website offers a assessment tool, signs and symptoms of an eating disorder as well as locations for day, outpatient and residential treatment programs in Duluth, St. Paul and Minneapolis. For more information or to schedule a screening, go to www.emilyprogram.com .
The National Eating Disorder Association also offers a screening tool on its website, a help line and a nationwide database of treatment centers at www.nationaleatingdisorders.org .
The former All-American from Wisconsin-Superior played in three Super Bowls as part of the Vikings' "Purple People Eaters" defensive line.