Wadena County Commissioners pay for unauthorized culvert
New building maintenance employee added
WADENA — The Wadena County Commissioners met Tuesday, June 7, 2022, to discuss whether or not they would pay for a culvert that was installed at the county fairgrounds without their authorization.
During the meeting, it was noted the culvert was placed near the track area. The county fair board approved the work and made the request for reimbursement of $2,370 for work done. The work included dirt work, flattening remnants of an old race track and installing an 80-foot culvert, which was completed by Kern and Tabery of Wadena.
The suggestion was to use maintenance funds to pay for the project. The commissioners were informed the fund has $26,000 allocated, with $10,000 spoken for. The expense was approved.
The commissioners were also told the fairground committee was informed they should request their approval for projects, prior to having the work done.
The commissioners approved hiring a new building maintenance employee. Currently, the department is budgeted for 4.5 full-time equivalents, a building maintenance director, 2.5 building maintenance workers and one custodian. In a report to the commissioners it was noted "they do remodeling projects at all of the county buildings and respond to issues for all buildings," including the jail.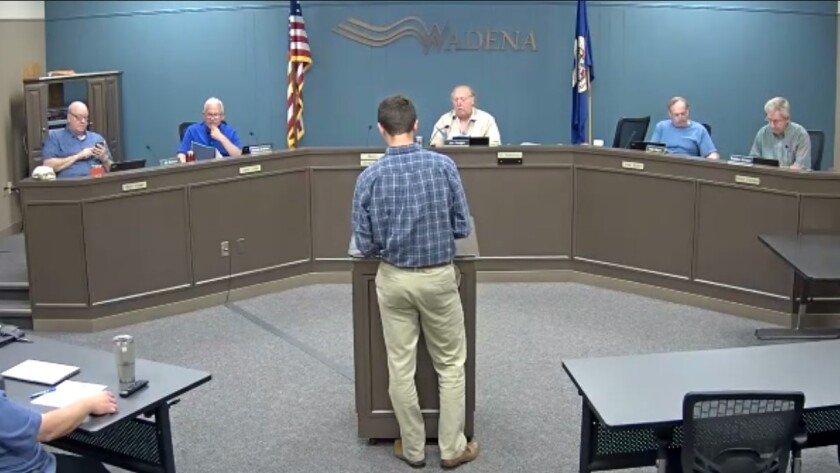 The new position would be located primarily in the Human Services building. Their work list would include cleaning, general maintenance, mowing, snow removal and assisting with the department's vehicle fleet.
Currently, the company Marsden is hired for basic custodial services. The report stated Human Services currently pays $34,540 annually. Step-one for a county maintenance position was stated to be almost $42,000 annually.
Human Services Director Jennifer Westrum said about a third of the position is reimbursed by state and federal funding.
Westrum went on to say she worked with organizations that contract out work, such as maintenance, snow removal and so forth, and, in her opinion, having an employee at the building provided a quicker response and great work.
The commission approved the new position.
The commissioners reviewed a request to place radio-a-thon dollars received during an annual auction and cash fundraiser for providing child abuse prevention services into a separate fund. Currently, the money is placed in a Family Services Collaborative fund, said Amie Gendron, administrative services supervisor for Wadena County.
Gendron said part of the request has to do with reporting purposes. She added the funds would be restricted dollars and used for specific purposes to assist Family Wise, which was formally the Child Abuse Prevention Council.
The commissioners approved the creation of the new fund.