Total joint replacement at Tri-County offering relief to region
The aching knees, hips and shoulders in and around our area are closer to relief these days thanks to a full spectrum of orthopedic services now offered at Tri-County Health Care in Wadena.
The aching knees, hips and shoulders in and around our area are closer to relief these days thanks to a full spectrum of orthopedic services now offered at Tri-County Health Care in Wadena.
Orthopedic surgery opportunities in central Minnesota has been growing in recent years yet the need remains as the new total joint replacement options at Wadena's hospital are seeing a great deal of attention since announced this fall.
In order to keep up with the needs of the area, orthopedic surgeon Dr. Ben Robertson is joined by his Tri Orthopedics team, who use a patient-centered team-based approach to serve patients, according to TCHC.
Other team members include Lorinda Zigan, PA-C, who guides patients through their experience with hands-on care; Medley Shamp, RN, joint care coordinator, who provides patients with education and support; Tri Rehab Services; nursing; and more.
This team works to really educate the patient before any surgery so the patients are well aware of every step in the process before and after any surgery.
Robertson was previously a partner at Northern Orthopedics in Brainerd for 12 years and a visiting specialist at Tri-County for more than 10 years.
"I've been coming here basically once a week for the past 11 years," Robertson said. In that time he built a name for himself as someone that could help people with painful joints, return to a more normal lifestyle.
He is board certified through the American Board of Orthopedic Surgeons and completed a fellowship in sports medicine at the University of Oslo in Norway. Robertson said this experience was a phenomenal opportunity for him.
Robertson grew up in Milwaukee, Wisc., and worked through medical school at the Medical College of Wisconsin before beginning his orthopedic training in 2001. Robertson admits he didn't have a real good idea what he wanted to make his primary focus at first. But over time he realized that orthopedic surgeries were something he could do very well.
The move to Wadena isn't a big one for Robertson who said he's already been serving the area for many years. Robertson said the area was previously covered by Dr. Elizabeth Arendt at the University of Minnesota. His conversations with Tri-County Health Care and Dr. Arendt naturally progressed to him coming to fill the need.
"It was a lot closer for me to come here and provide services than for her to fly here, which was how she'd been doing it," Robertson said. "So it was a good transition time for her."
Robertson said he's enjoyed coming to Wadena all these years, not that he didn't like his work in Brainerd, as he still lives in that community.
Robertson said the orthopedic options have gradually grown in Wadena. Having him here full-time has allowed the breadth of options to blossom further. And having those options has brought in a full schedule of patients.
"It's really ramped up quickly, and it's been gratifying just to see the excitement that everybody has," Robertson said of the staff at Tri-County. "But also the patients are really excited to be having the service done here."
Dr. Robertson was doing about 100 joints a year from Wadena before coming here full-time. He was doing about 200 joint replacements a year while in Brainerd. Each procedure takes close to an hour and a half to complete.
The road to recovery
The process of getting a total joint replacement is not often instant. Dr. Robertson said there are often other steps taken first based on the progression of arthritis. As cartilage wears away, it causes bones to rub on each other, causing great pain.
"How we treat things depends a little bit on how fast that's happening for patients," Robertson said.
It can be as simple as medication and stretching to offer pain relief. Physical therapy can offer relief and added range of motion. It could include various injections, like steroids, that can help relieve pain. If those are not enough, total joint replacement could be the next move. And Dr. Robertson said the success rate is around 95 percent for patients having a joint replaced. Those joints have a life of over 20 years. Those that find success are often able to go back doing what they love.
"I think orthopedic surgery is one of those areas of medicine that there is a lot of visible reward," Robertson said. "You get to see them walk in without a limp, and you get to hear about all the activities that they were not able to do before."
He loves to hear from patients with their stories of getting to run, jump, ski, garden or just live with less pain in their lives.
Less intensive
While these surgeries are less intensive than they once were, Robertson says this is still a significant surgery having a joint replaced. He prefers the least intensive method to cause the least amount of damage to any tissue.
Because of the changes in the surgery, patients once were in the hospital for up to a week, while some now are out the next day. That recovery period is helped along because those that have the surgery are encouraged to get up and get moving right after surgery.
So if you have a hip replaced, typically patients are getting up walking the same day and encouraged to walk short distances every day. This tests out the joint, helps the blood flow and mentally it shows them that they can get up and use the joint without fear, Robertson said.
Robertson does not see a slowdown coming in the need for joint replacements.
"There's already kind of a shortage of orthopedic surgeons to an extent and I think that's going to continue to travel in that direction for a while," Dr. Robertson said.
If you are one of the many people suffering from joint pain, young or older, you may want to consider meeting with the team at Tri-County Health Care to see what orthopedic options may be right for you.
For more information, call 218-631-3510 or visit TCHC.org/ortho.
INFO BOX
Where it started
Both "orthopaedics" and "orthopedics" are derived from orthopédie, a French term coined by 17th -century physician Nicholas Andry de Bois-Regard. The term used by Andry itself is derived from the Greek words orthos, which means "correct" or "straight," and paidion, which means "child." As the etymology implies, orthopédie - or what we know today as orthopedics - was first practiced as a way to treat childhood spinal deformities such as polio or scoliosis. Of course, modern orthopedics has grown to encompass a diverse array of treatments as well as expand its focus to include all age groups, according to the University of Colorado Orthopedics department.
1
/
4:
Patients are able to view what the new joints look like that would replace damaged joints. Michael Johnson/Pioneer Journal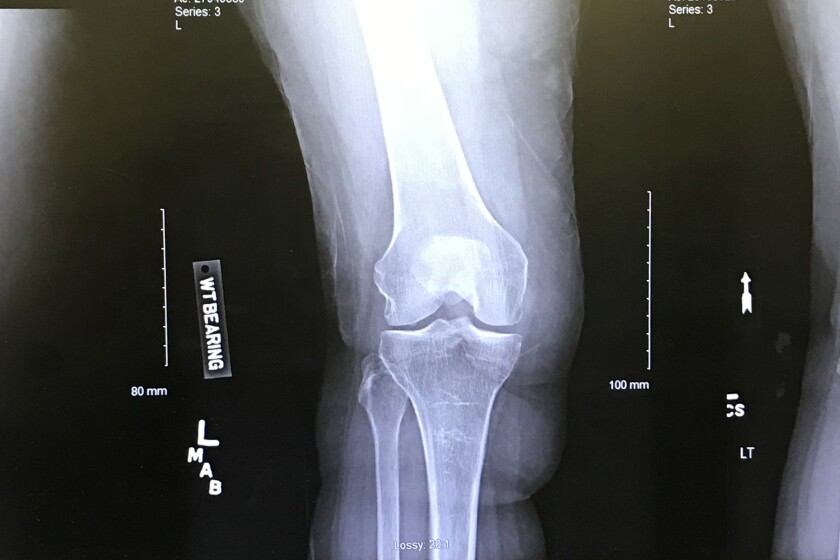 2
/
4:
The progression of arthritis is shown in these knee x-rays (worsening from left to right). Over time, the cartilage wears away leaving the bones rubbing against each other. Photo courtesy Tri-County Health Care
3
/
4:
Orthopedic surgeon Ben Robertson, M.D.
4
/
4:
Lorinda Zigan, physicians assistant